Potasfield Schools
Popularly known as PFSchools, is a great citadel of learning that has distinguished itself in the league of Nursery, Primary and Secondary Schools in Lagos state at large.
This is a School Founded by Elder A. U. Kalu through the inspiration of the Holy Spirit in Working together with God in Shaping Destiny through the Power of Knowledge.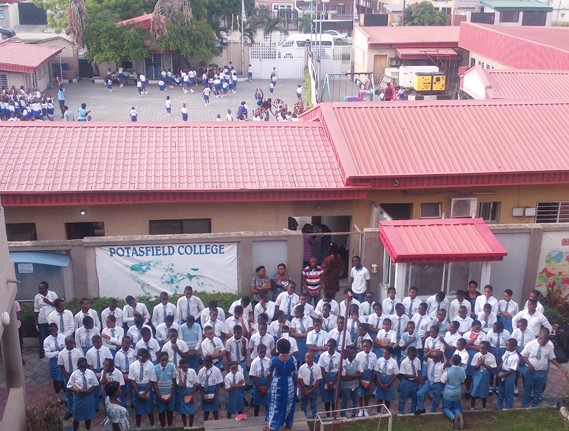 Our Activities
Our Best Services For Your children
Word of God
Either as a staff, student or pupil, it is our number 1 priority to shape destinies with Virtues that Last.
Child Support
A teacher's duty is to care and support a child and we do that so as to bring out the God-given potentials in every child.
Transportation
We run an efficient school bus system in handling your child with optimum care early to and fro school. In case of break down, we have other buses on stand by for support.
Follow Up Lesson
We organise follow up lessons for Pupils.
Excursions
We give our Pupils the opportunity to visit places of keen interest thereby making what they have learnt to sound and feel real.
Nigerian Languages
Language is everythiing to us. We teach them French, Ibo and Yourba reminding them of our cultural heritage.
118
Teachers and Staff
We have top class Teachers and Staff that are ready to push the boundries and make education a passionate affair.
520
Children
Pupils and Students are trained based on godly principles in academics and various aspects of life even athletics.
26
Class Rooms
Our Classrooms are Spacious, Comfortable and Peaceful. We maintain a calm environment for learning.
9
Laboratories
We have a wonderful set of unique Science Labs, ICT Rooms, Workshops and Creative Arts Studio to practice what we teach.
When you decide to come to Potasfield Schools, you are making an investment in your future physically, Morally and otherwise. You don't just want any private school.
You want to experience the best. You want your child/ward to make a difference and impact the society positively, spiritually, etc.
Mrs. T. C. Igbokwe
Principal
Potasfield college is the place to be if your desire is to acquire a sound secondary education based on Godly principles and integrity.
This is a school founded on a faith based conviction by the leading of the Holy Spirit to reach out to the teeming youths in a generation that seems to negate the ancient landmarks where the good way is.
"I know the teaching profession contributes more to the future of our
society than any other single profession."

Steven Okoro

Mathematics

The teaching quality in Pfschools has a flavour for morality and uniqueness in its teaching .
Sincerely, I recommend this school to you.

Jennifer Ehenachor

Parent